Console Final Fantasy Spin Off games
---
I have a few of the spin off FF console games, and basically i just thought i'd post them up and quickly talk about them. I don't have them all and to tell you the truth theres not a lot of good in them but here goes... Let me know if i'm missing any of the obvious titles (i have PAL region though).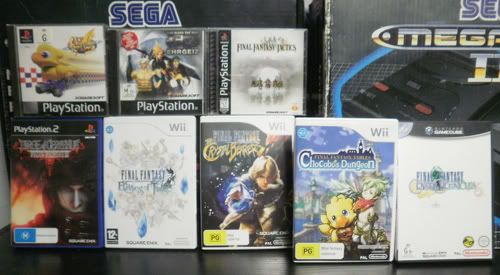 So let me start with the best and work down (i'll be very brief as i know walls of text aren't rwc's thing).
#1 FF Tactics - PS - NTSC
Only NTSC game i have in the collection i think, when this game came out it was really really good, i think as far as spinoffs go it should be in number one. I don't think its aged wonderfully though but if you like strategy games its a great one.
#2. Final Fantasy Crystal Cronicals - Gamecube
I honnestly think out of all the spin off games this is the one to buy, it might be getting harder to buy now a days but its a treat.
Its a really great game with a good story a little repetitive though.
#3 Chocobos Dungeon - Wii
This is a fantastic dungeon crawler it doesn't use any gimmics with the wiimote just turn it on the side and play like a nes game. Its got the traditional dungeon crawler feel so it does get a bit dull as you will have to go through the same dungeon multiple times but some of the missions and challenges are fun. All in all great game on the wii.
#4 Chocobo racing
This is actually a cartoon kart type racing game not unlike Diddy Kong racing in its style. Much shorter than DKR but its not bad theres unlockables and a story mode.
#5 EHRGEIZ
It has Cloud Strife on the cover so i bought it. I loved it for what it was, its sorta like two games theres fighter Mortal Kombat side where you can play as Final Fantasy 7 characters and few others plus an adventure side that i never really got into (cloud is only playable in the fighting side). Get it if you need to...
Ok this is where things go down hill a bit.
#6 FF7: DoC - PS2
Oh i hated this game, the cutscenes kept me in but i just didn't like the way it played and controlled. Story was really good, but an FF 3rd person shooter did not work for me.
#7-8 FF:CC - Wii
FF:CC echoes of times is a port of the DS game and it even uses the two screens, trouble is its horrible to use and the graphics haven't been impoved so its like playing a DS game on the wii, doesn't look real pretty blown up on my TV.
FF:CC - CB i just could not get into the game at all its heavy on the wiimote which i find difficult to use, its not very fun either and the characters are very dull. Pretty much final fantasy the point and click adventure...
Well i just thought i'd post some of my thoughts on these spinoff that i own and if you have some that i have missed or feel differently about one of them then post it in the comments below.
-----
I have picked up a few more games as well from my collection which i'll post up later on.
See you on the forums.
Views
1266
Comments
5
Comments